1. Spent last weekend up north with The Sisterhood of the Traveling Scarf.
2. Lots of long days, early morning meetings and evening tiredness this week.
3. My sweet wonderful Mr. surprised me last night by having flowers and a beautiful card waiting when I got home, taking me out to dinner and then an unexpected night at a local hotel.
4. The best part about number 3? He had no idea it was Sweetest Day, he's just that awesome :)
5. Speaking of awesomeness, we're leaving on Tuesday evening for four days in Traverse City.
6. I love Autumn, gonna spend the weekend putting out my Fall decorations.
7. Tomorrow my sister is hosting a celebration for her grand baby Mason's dedication, yay for babies!
8. I may make lasagna this weekend. Or I may not.
9. I may make cookies this weekend. Or I may not.
10. As you can see, I lead a very exciting life!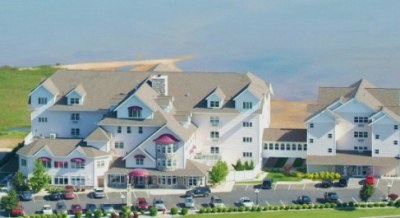 Cherry Tree Inn Resort, Traverse City