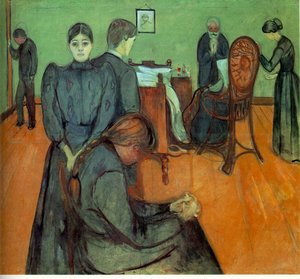 What complicated things we Christians are.
I am convinced that my gramma's death is imminent and equally convinced that this is a good thing. The reward for her life lies just beyond her grasp now. The deepness of her sleep and the far-away look in her eye tell me that more of her is already in heaven than what remains. It's just the temporal shelter of her body that is slowing winding down.
I don't ask God to heal her or to extend her time with us. I ask for quickness, take her now Lord. Receive her to your throne where sickness and pain find no stronghold. Give her that immortal body promised, strong and perfect. No, I do not want more days or even hours for her on this earth. I came to her bedside in the middle of an episode of apnea. I stood quietly wondering, is it now? She inhaled then and I was almost sorry. I found I was holding my own breath as if in anticipation of her entrance to the throne room of God.
Still I walk in mortal flesh and am caught by wrenching grief that won't be still. I wonder how many tears can my body produce before I am finally dry? Nothing is interesting to me except rest. I am not depressed, I don't even think I'm sad. But I am entirely focused on my gramma. On wanting her to go but not wanting her gone. I think I found something of my grampa in her, and I wonder what will remain when she's gone. I don't know what I want, maybe for time to have moved more slowly.
I hunger for aloneness right now. My mind cries out for solitude and quiet to settle my soul into what is coming. I don't want comfort but to empty out whatever in me remains of the days of having four grandparents, then three, then two and soon...one. I want Jesus to fill in the spaces she will leave. I am not undone by her death. I do not have unfinished business or unspoken words with my gramma. For this I am grateful and even now my heart celebrates my great blessing. I just need to be quiet as the sun sets on what my life has always been and take a breath to receive the new sunrise.
Let my gramma not linger in this world. But let me bravely walk forward on feet of clay until I too awaken in heaven.



Psalm 62:5
Find rest, O my soul, in God alone; my hope comes from him.