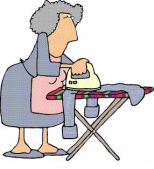 1. Iron your work clothes a week ahead of time.
2. Get your coffee pot ready the night before.
3. Coordinate your lipstick to your outfit.
4. Fold all your towels in the same direction.
5. Turn on your electric blanket a half hour before bed.
6. Read in bed at night for half an hour at least.
7. Remove your make up in the evening.
8. Have multiple pairs of shoes.
9. Run your car long enough to melt the ice & snow instead of scraping it.
10.Remove your bra as soon as possible.