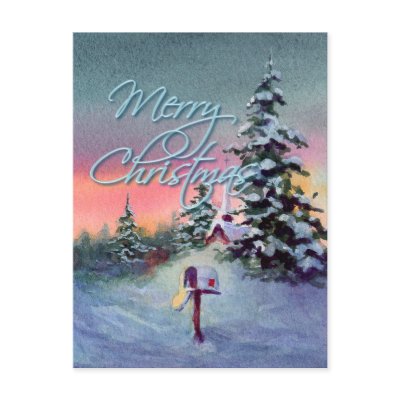 My Christmas cards are currently "shipped." For the second year, I am using the Hallmark online card service. You can find it by clicking
HERE
.
Last year the delivery was late. I did order late however, according to the site, delivery would still be on time. Eventually everyone got the cards (I think) although a few came after Christmas. But the idea of the Hallmark service is great so I'm giving them another try and ordering early this time. I placed my order on Sunday and got an e mail last night that they were shipped.
I have to say I love Christmas cards and I think it's sad that they are becoming a lost tradition. Although I understand with the increased pace of life and the cost of cards and stamps, sometimes a person just can't do it all. I've mailed cards to a smaller and smaller list over the years and a few years, I've only sent them to immediate family.
The Hallmark site allows you to make an address book that it stores so you can send cards for any occasion year 'round. You have the option of having the card delivered to you or they will sign, address, stamp and mail them to the people you specify on your list. You can upload personal photos for your card or choose a stock card and you can personalize the message on the card as well. The price varies according to which you choose. The postcard style is the least expensive.
The site predicted that my cards ordered on Sunday 11/27 would be shipped on 11/30 so the e mail last night that they were shipped is a good sign. If they don't deliver properly, I'll update you and probably not use the service again. I'm hoping that it works better this year because it just makes it so much easier to re-embrace the old fashioned tradition of Christmas cards.
Finally let me just say, I love getting Christmas cards in the mail. I'm not offended or disappointed if I don't get many, and in recent years the number has significantly decreased (maybe because my sending has decreased!) But if you are trying to decide whether or not to send cards based on wondering if people even care anymore? Send one or send 100 but send cards if you are in the mood. I, for one, love 'em.
What about you? Do you send Christmas cards? Do you think it's just a dying tradition that we should let go?